Total Lunar Eclipse - October 8, 2014
This is the second total lunar eclipse of the moon for 2014 and also the second of a tetrad of total lunar eclipses on April 15, 2014, October 8, 2014, April 4, 2015 and September 28, 2015. The excitement begins (if one can get excited over an eclipse) when the moon enters the umbra at 1:14 am and continues through the umbral, total and second umbral stages. After 4:34 am there's not much to see. The penumbral stages are barely noticeable. Information for Central is given below and information elsewhere may be found using the link below the information for Central.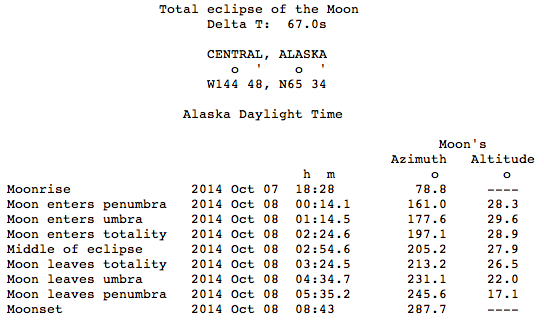 From: http://aa.usno.navy.mil/data/docs/LunarEclipse.php
Total Lunar Eclipse - April 14-15, 2014
The photos below were taken during the spring eclipse. The moon entered the umbra at 9:58 pm on the 14th, entered totality at 11:06 pm and was at mid-eclipse at 11:55 pm. It left totality at 12:25 am on the 15th and left the umbra at 1:33 am. The total period shown below was through both umbral stages and totality for a total of three hours and 35 minutes with the camera (Sony DSC-RX10) being on the tripod the entire time except for a battery change at the 3 hour mark. The temperature was 25° F at 10 pm dropping to 20° F at 1:30 am. All photos were taken using the 200 mm focal length (35 mm eq). The umbral photos were taken at ISO125, increasing to ISO400 prior to totality, with the last photo before totality at ISO800 where it remained until the moon exited from totality at which point ISO125 was again used.

Aperture priority was used throughout varying from f2.8 to f5.6 and exposure was varied using the zebra function and the exposure compensation dial on the top of the camera. Since the RX10 is very sharp in the center at f2.8 and the moon occupied only a small portion of the frame, f2.8 should have been used throughout to simplify the procedure. Also Daylight exposure balance should have been used rather than automatic. The yellow color in the first two photos is due to the proximity of the moon to the horizon since the moon entered the umbra 55 minutes after moonrise, however later color shifts during the umbral phases were most likely due to using automatic color balance.